Introduction
The following pages are dedicated to inhabitants of Shepherdswell who served in and lived through the Great War of 1914-1918. At its centre are the names of 126 residents of the village who were members of the various services during the conflict. Most enlisted or were conscripted during the War, though a few were already serving before 1914.
The list includes soldiers – privates and officers in over twenty regiments – members of the Royal Navy, nurses and other volunteers, a doctor in the medical corps and a veterinary surgeon. The youngest, Percy Rofe, who lived at Dorchester Cottages, Cox Hill, was 13 when war broke out. The oldest, Thomas Williams, who lived at The Bricklayers Arms, was 46. Of the 126, 32 did not survive the war, killed in action, dying of wounds or illness. They have been identified in the list below with a Remembrance Poppy.
The information here accompanies 126 blue plaques, which during May and June 2019 were displayed around the village, close to each individual's former residence. Some have been displayed on the Village Green, close to the War Memorial. The plaques have since been transferred to a newly created Remembrance Wall in the Village Hall as a permanent memorial.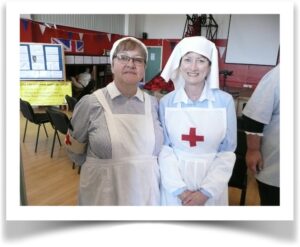 The plaques were the climax of the Shepherdswell & Coldred History Society's commemoration of the Great War. In September 1918, the society devoted its 'Big History Day' to Shepherdswell's wartime experience.
The following men and women of Shepherdswell joined the Forces to serve their country during the Great War, many of them not returning. The list of names is taken from the booklet produced by village historian Richard Higgs, which was published in 1919. Reference is made in some of the biographies to information in Higgs' booklet which, as it was a contemporary record, is assumed to be an accurate list. However, if any mistakes have been made we hope they will be forgiven.
(Information is being continuously updated, so please check back regularly.)
Simply click on the names listed below to see what information we have gathered to date.
  Names (A – G)

 

Names (H – P)

 

Names (R – W)