Thomas Jennings Williams 1867 – 1941
The licensee of the Bricklayers' Arms and a popular member of the village community for over three decades, Thomas Williams served with the Army Service Corps, Mechanical Transport Company. 
Thomas Williams was born in October 1867 in Crowan (Cornwall) where his father, also called Thomas, worked as a tin miner. One of eight children, Thomas's early years were hard. With the Cornish tin-mining industry on the verge of collapse, the family relocated to Radcliffe – a small town in Lancashire surrounded by coal mines and textile mills. Thomas would have been five – in later life he often referred to himself as a 'native of Lancashire'. 
Thomas was around ten when his father died. At the age of 14, he was working as a labourer in a brickworks and soon afterwards began working in a colliery.
Three months after his 18th birthday, Thomas enlisted in the First Battalion of the Manchester Regiment. This first experience of army life did not go well. After only five weeks, he absconded from the barracks. On 17th March 1886, a Court of Enquiry found he was 'illegally absent from his duties', along with items of 'clothing, equipment and regimental necessaries'.
Thomas' next movements are unknown. But in September 1896 he married a Kentish woman, Annie Ward, at a service in Buckland. Annie's father was a publican. 
Around the time of his wedding, Thomas enlisted for three years in the Royal Garrison Artillery, based at Dover Castle. His company was posted to support the Hong Kong-Singapore Battalion. Annie joined him on the long voyage to South-East Asia and the couple had the first of their four children in 1897, while living in married quarters in Singapore. 
Thomas re-enlisted in the Royal Artillery in April 1900 for a further year and was posted to Golden Hill Fort on the Isle of Wight. His attestation papers describe him as having a fair complexion, grey eyes and light brown hair. His left eye was 'slightly defective' and there were two women tattooed on his right forearm, with another woman and a star on the left.
After leaving the army and now a trained engine fitter, Thomas and Annie helped run his father-in-law's pub – the Black Horse Inn at Swingfield. By the end of the decade, the couple had moved to Shepherdswell to run the Bricklayers' Arms.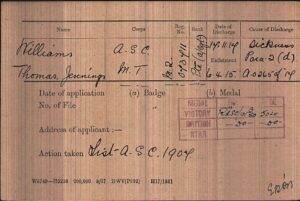 After the outbreak of the Great War and now 47 years old, Thomas, a reservist due to his previous service, was called up into the Army Service Corps, Mechanical Transport Company (6 April 1915). Posted to France as a Private and later Acting-Sergeant, he worked on the large military vehicles that transported goods, equipment and ammunition to front-line troops.
He was discharged on 17 November 1917, a few weeks after his fiftieth birthday, as 'no longer physically fit for war service' and awarded the Silver War Badge for 'honourable discharge'.
After the war, Thomas ran the Bricklayers Arms until November 1926, when Mark Moore became the licencee. He remained in the village for another decade, selling produce from a small holding and involving himself in the sporting life of the village. He was described as 'a valued supporter of the cricket club'.
Towards the end of the 1930s, with his health failing, Thomas and Annie left the village to live with one of their sons in Redhill, Surrey. His son – who was born in Shepherdswell – had named the house St Siberts. Thomas died on 2 January 1941.
Sources: WO363; Royal Hospital Chelsea Pensioner Soldier Service Records; Surrey Mirror, 10 January 1941; Dover Express 10 January 1941.