Geoffrey Stratford Facer  1897 – 1976
Geoffrey was born on 8th May 1897 in Apperley Bridge, in the Wharfedale district of Yorkshire. His parents were Francis (Frank) Morris and Emily Jane (née Bush) and he appears to have been their first child. The 1901 Census gave his father's job as headmaster of Kent College, Canterbury which at that time was a boarding school for boys. By that time, he had a sister of ten months old, named Margaret. 
In 1911, Frank was still at Kent College although by then he was a schoolmaster. Geoffrey, aged 13, was at Burton Bank, Burton Hole Lane in Hendon at a boarding school for boys. 
In 1915, Frank, Emily and Margaret moved to the vicarage in Shepherdswell when Frank became vicar for the village, until ill health forced his retirement in 1920. 
The first piece of information about Geoffrey's War experience came from the Dover Express' report in March 1916, at the Rural District Tribunal, which reported that Geoffrey was currently studying at Oxford University and had been granted a three-month exemption in anticipation of receiving a commission.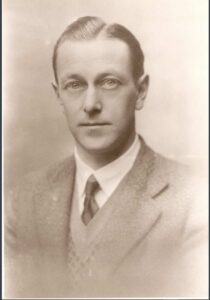 He was gazetted to the East Surrey Regiment from the Officers' Cadet Corps on 22nd November 1916 as a 2nd lieutenant, service no. NW/6/34310. Although few War records have been found, the Dover Express in 1917 gave several useful articles. 
In early May 1917, the War Office had sent a telegram to his father, reporting that Geoffrey was missing at the Front. Subsequent articles supplied the information that he was a Prisoner of War in Germany. 
On 3rd May 1917, he had been leading his men at Cherisy when the battalion had to fall back under the German advance. He and his lance corporal had covered the men's retreat with a Lewis gun, until the gun was put out of action and Geoffrey sustained a leg or foot injury. His wound prevented his escape, so he had ordered the lance corporal back to the lines and had given himself up. 
He was initially taken to Hanover and then to Salzerbad. He was in touch with his family whilst a prisoner, as a telegram sent to his father on 20th June 1918 stated that "Am Austria send biscuits stop Oppenhagens orders keep on sending parcels as usual good health Geoffrey Facer". He was repatriated in November 1918 to his family in Shepherdswell.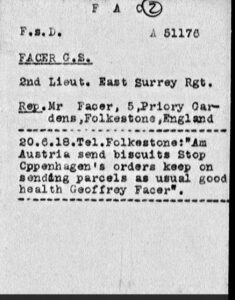 Following the War, Geoffrey returned to his studies at Corpus Christi, Oxford, obtaining a first class in 'classical honour moderations'. He was best man at his sister's wedding in 1923, and his father died in 1926 in a house named Sibertswold, Hurtmore Road, Farncombe near Godalming in Surrey. 
This was certainly Geoffrey's address in 1934 on the Electoral Roll and again in 1939, when he was listed as a schoolmaster at Charterhouse boarding school, unmarried, and living with his widowed mother. 
He travelled at least twice to Tenerife during the 1950s, giving his address as Oakhurst, Frith Hill Road, Godalming. His probate record showed that he died on 18th May 1976, with his address then being Croft Orchard, Somerton in Oxfordshire.