Margaret Eleanor Bigg 1882 – 1967
Margaret Eleanor was born on 2nd June 1882 in Handley, Dorset, to parents Thomas Frederick and Janet Emma (née Johnstone). Her father was the vicar and baptised her on 23rd July in the parish church. She was probably their 8th child and was known as Peggy.
In 1891, her four older brothers and eldest sister were not living with the rest of the family when they were recorded still living in Handley. There has been little success in tracing Peggy in either the 1901 or 1911 Censuses, however as two of her brothers emigrated to Canada and another to America, it is possible that she may not have been in England at the time that these were taken.
Peggy's father was certainly living in Shepherdswell at Oldfield Mount by 1913, and it is likely that some of the family were also living there. Her mother died that year and was buried on 15th October at Barfrestone, with Peggy amongst the mourners listed. A Dover Express report of her father becoming seriously unwell in October 1914 stated that he had been living in Shepherdswell for 4 years; he recovered and lived for another 15 years.
Peggy joined the Voluntary Aid Detachment of the British Red Cross at some point in 1915 and was reported to be "on the Continent" by the Dover Express in October. She would appear to have possibly been back in the village in 1916, when a Miss M Bigg and her sister organised a fundraising garden party, but nothing else has been found relating to her War years.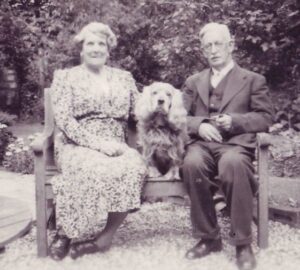 In 1925, Peggy, then aged 42, married John Alfred Dearden Reade, aged 50, at St Dunstan in Canterbury. They were married by his father, George, who was the Hon. Canon of Carlisle. Peggy was married from her father's home at 48 London Road, Canterbury, and John, who was known as Alfred, was living in Giles Lane, Rough Common.
They subsequently moved to a house called Monkswell, also in Giles Lane, where the 1939 Register stated that Alfred was a retired public school master and an ARP Warden, with Peggy described as a masseuse and ARP First Aider.
Peggy died in 1967 in the Canterbury district, at the age of 85.