Alexander Wooldridge 1879 – 1968
A resident of Shepherdswell for sixty years, many of them as a prominent member of the community, Alexander served in the Army Service Corps. He was for many years President of the Shepherdswell British Legion

Alexander was born in Buckhurst Hill, Essex, on 10 March 1879, the youngest son of Henry Wooldridge and Elizabeth (née Selman), and spent most of his school days in Tonbridge, after the family relocated to Kent. Father Henry was a coke and coal merchant covering Essex and Kent. In 1900, Alexander married Ansley Corke, the couple living initially in Nutley, Sussex, Ansley's birthplace. They would eventually have seven sons and a daughter.
The Wooldridges moved to Shepherdswell in 1906 after Henry bought Diamond Farm and some adjoining land. Alexander and his growing family moved in to Linden House, out of which he ran a business as a builder, wheelwright and carpenter.
After the outbreak of war, business hit hard times and, during the summer of 1915, Alexander filed for bankruptcy. By this time he had begun to make plans to volunteer for the army. In court it emerged that – just before filing for bankruptcy and despite his considerable debts – Alexander had taken out a life assurance policy because 'he wanted to do something for his wife and family'. His stock, tools and plant were sold off at public auctions in Shepherdswell and Whitfield (site of his depot) on 8 September 1915.
After enlisting, Alexander served in the Army Service Corps, Mechanical Transport (MT) Section. Based in Rouen, his company serviced and repaired heavy lorries, ambulances, motor cycles and cars. It also organised the supply of materials and provisions to the frontline troops. In July 1916, Alexander wrote to his father: 'I am sending you this card to let you know I do not forget you – I have very little to write about – pretty nearly the same every day – hoping you are well – with love, Alex.'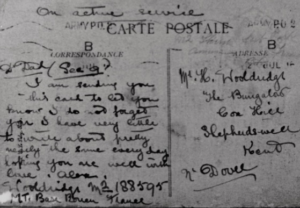 Alexander moved into Diamond Farm in the late 1920s, adding farming to his list of occupations, which also included funeral director. He built six houses on the land (now known as 1 & 2 Diamond Cottages, 1 & 2 Claysole Cottages, Oban and Elgin). On his death, an obituary in the local press described him as a 'man who did much for his village'. As well as being President of the Shepherdswell branch of the British Legion, he served on the Parish Council, on the Committee of St Andrew's Hall and as a Governor of the village school. During the Second World War, he joined the Kent Special Constabulary. Alexander died in 1968 at Linden Villa, Cox Hill, Shepherdswell. 
Sources: Dover Express, 27 August, 8 September 1915; Wooldridge family papers.
Researched Reference Materials