Commander Theodore Evelyn Johnstone Bigg 1878 – 1965
Theodore was born on 5th September 1878, the son of Reverend Thomas Frederick and his wife Janet Emma (née Johnstone). Reverend Thomas was the vicar of Handley, Dorset, which was also known as Sixpenny Handley.
He was baptised by his father on 29th September, and the 1881 Census showed him living at the Vicarage in the village with five siblings, a boarder and four servants.
By 1891, he was at school at St Michael's College, Sidmouth Road in Lyme in Dorset. Two years later, he enrolled in the Royal Navy on 15th January. Navy records showed that he made good progress through the ranks; he became a midshipman on 15th April 1895, an acting sub-lieutenant on the 15th October 1898, and lieutenant on 1st April 1901.
He married Grace Edith Clifford on 10th May 1906, with a son, Lionel Theodore Patrick Bigg, born in 1907. On 30th June 1910.
Theodore was commissioned as a commander in the Navy, and in 1911, the family's address was given as 6 York Terrace, Gillingham. It is known that his father moved to Oldfield Mount in Shepherdswell somewhere around 1913 and by 1917, Theodore had moved his family to a house named Yelderslea nearby.
During the War, Theodore was commander on a destroyer, and took part in the Battle of Jutland.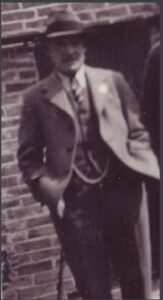 A daughter was born in February 1915 when he was reported to be the commander on HMS Cheerful.  He received the Chevalier Cross, Legion of Honour, which was reported in the Gazette of 15th September 1916. He was made a captain on 30th Jun 1918, and was placed on the retired list on 16th August 1922, when he would have been 43.
It is not clear whether Theodore worked following his retirement from the Navy, but he and Grace played an active part in the village life of Shepherdswell. They held garden parties at their home and were involved in the Parish Council, British Royal Legion and the WI, information being gleaned from over 400 entries in the Dover Express newspaper.
Somewhere around 1924, the family moved to The Gables on Mill Lane, where they lived for many years. The 1939 Register showed that Grace was at home in Shepherdwell, whilst Theodore was in Liverpool at 15 Dudlow Lane, although the purpose of this trip is not currently known.
Theodore lived the last days of his life living at Kearsney Manor Nursing Home, in Kearsney on the edge of River, Dover, and died on 6th January 1965.