Frederick Hustler White 1881 – 1945
A miner at the Snowdown Colliery and resident of Shepherdswell for around 35 years, Fred Hustler White served in the Army Service Corps as a driver.
Fred was born on 5th October 1881 in Chesterton, Cambridgeshire, to Harriet (née Hustler) and John, a grocer. His connection with Kent may have facilitated through his sister, Gertrude, who in 1901 was living in Minster (Thanet). It was in Thanet that Fred married his first wife, Ethel Fayers, in 1904.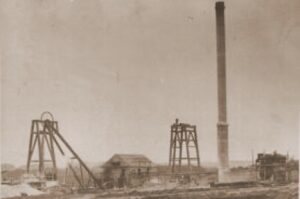 In 1907, Fred and Ethel lived in Shepherdswell. That year saw the start of work to construct Snowdown Colliery and Fred worked as 'a sinker'. Sinking mine shafts was dangerous work, made even more hazardous at Snowdown because of a constant threat from water. A sudden inundation drowned 22 of Fred's workmates as they sank the first shaft at the pit. In September 1910, Fred and Ethel were amongst the mourners at the funeral in Shepherdswell of Charlie Causer, a young married man of 20, who lived in Connaught Villas. He had been killed in an explosion in the colliery boiler house. 
In 1911 Fred and Ethel were living in Cox Hill Cottages, with their three young children. Two further children followed. But in 1914, Ethel died – possibly in childbirth – in the Dover Union Workhouse Infirmary (buildings which after 1948 would become Buckland Hospital).
After the outbreak of War, Fred continued to work at the Colliery, now as a trammer – a job that entailed loading freshly mined coal onto 'trams' and pushing them back to the shafts, a task sometimes carried out with the head.
As a widow with young children, Fred was granted exemption from military service by the Colliery Tribunal. But, in December 1917, the Dover Rural District Tribunal granted a 'final exemption' of two months. Just before he joined the army, on 16 February 1918, Fred married Ellen Godden, a 44-year-old local women whose father worked in a Dover sawmill.
Fred enlisted in the Army Service Corps. He served as a Driver (no T/370390). His military record has been lost, but the award of the Victory Medal indicates that he was posted to 'a theatre of war', rather than home service.
After the War, the couple continued to live in Shepherdswell. When Ellen died aged 55 in 1928, they were living at 'Manor House, Shepherdswell'. Later, Fred moved to 9 Whittington Terrace.
He died in 1945 and is buried in St Andrew's Churchyard.