Jesse Willard 1895 – 1916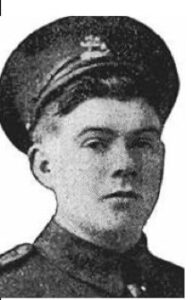 Jesse Willard died on 18th July 1916 of wounds inflicted during the Battle of the Somme. He is commemorated on the memorial on the Village Green, Shepherdswell. 
Born in Hawkhurst and brought up in Marden, Jesse followed in the footsteps of his father, a signalman, and took a job on the South Eastern and Chatham Railway. A member of the Dover branch of the National Union of Railwaymen in 1913, he worked as a porter and, it seems, was based in Shepherdswell. His inclusion in Higgs' book suggests he had lodgings in the village. 
One month after the outbreak of war, Jesse enlisted in the East Kent Regiment (The Buffs) as a Private in the 6th (Service) Battalion, part of the New Army of volunteers associated with Home Secretary, Herbert Kitchener. He signed his papers of attestation and had his medical examination in Shepherdswell on 26th August. 
The Battalion was trained, firstly, at Colchester, then at the Sandling Camp, near Shorncliffe, and finally in Aldershot. Training did not go smoothly for Jesse. On 4th December, during an exercise on Tolsford Hill (near Lyminge), he was ordered to 'double down the hill' and put his foot in a rabbit hole, falling badly and breaking his left leg in two places. He remained in the military hospital until 13th January and doctors could not guarantee his future 'efficiency as a soldier'. The affair was considered sufficiently serious to warrant an inquiry, which exonerated Jesse of 'any blame' for the accident. In March at Aldershot, Jesse was charged with 'being absent when on active service' for one night between the hours of 9.30 p.m. and 6.30 in the morning. As punishment, he was confined to barracks for three days and forfeited a day's pay. 
Jesse's Battalion arrived in Boulogne on 1st June 1915. After training in trench warfare at Armentières, it engaged in the Battle of Loos (September-October 1915) and the Battle of Givenchy, which concluded on 22 December. During a 'Christmas truce' after the Battle, British and German soldiers ventured into the water-filled craters in no-man's land to collect the many casualties. In April 1916, Jesse was struck down with influenza and spent ten days in a field hospital and, then, a base hospital at Arques. 
 In July 1916, Jesse took part in the Battle of Albert, the opening stage of the Battle of the Somme. On 8 July, during an advance on German positions near the village of Ovilliers-la- Boisselle, he was injured by two gunshot wounds in his back. Jesse died ten days later in one of the military hospitals close to Étaples. His personal possessions of photos, postcards, wallet, leather cigarette case, prayer book, razor, strop and comb were returned to his mother. 
Jesse is buried at the Étaples Military Cemetery. As well as in Shepherdswell, he is commemorated on a plaque in St Michael & All Angels Church, Marden. 
Sources: NA, WO MH 106/1443; NA, WO 372/21; War Diary, 6 Battalion The Buffs, NA WO 95/1860. Photograph: https://www.mardenchurch.org.uk/wordwar1page3.htm