George Alfred Friend  1883 – 1976
Higgs' book mentions a 'George A Friend' and the most likely man this refers to is George, the son of George and Ellen (née Simmons). There are some reservations about this being the correct person however, as he was working and living in Frant in Sussex both before and after the War, although his parents and at least one of his brothers lived in Shepherdswell around this time. No other candidates have been found to date.
George was born on the 14th August 1883, the second son and second child of a family of eight children. He was born in Lydden where his father was a labourer, and was baptised in the parish church of St Mary the Virgin on 16th September that year. 
The 1891 census showed the family living in Acrise but by 1901, they were back in Lydden. George Alfred was working as a horseman on a farm at this point. Somewhere between then and the 1911 Census, George moved away to Frant and was boarding at White House, with employment as a gardener. 
It seems reasonable to assume that George visited his family frequently though, as the Dover Express of 6th February 1914 recorded his marriage to Lillie Mount on the 27th January at St Peter and St Paul in Temple Ewell. His brother Albert James was the Best Man. Lillie wore a 'dove grey cloth costume with a black velvet hat trimmed with amber ospreys'. The reception was held at George's parent's home at Courtwood Villa in Shepherdswell. George and Lillie left the same day for their new home in Frant.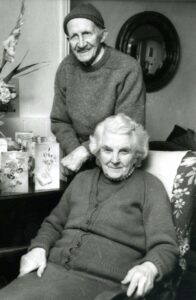 No record has been discovered to date that gives details of George's War experience. There are several George or G Friend candidates, but without further identifying information in the records, it has proved impossible to know which man he may be or if records survived.
After the War, George continued living and working in Frant. He and Lillie probably had five children born between 1915-1924. In December 1930, he was caught taking a cock pheasant from a trap  without a gaming licence and was fined £1 when he attended the Mark Cross Petty Sessions at the end of January 1931. 
The 1939 Register gave their address as The Lodge, Frant Court, with George still working as a gardener. He was also an ARP Warden. His son Leslie Arthur was still living at home, as was probably another sibling. Leslie was employed as a clerk and was also an 'ARP clerical work'. 
George died on 9th January 1976, at the age of 92. His address at that time was 1 Court Cottage, Frant Green, Frant. An Ancestry family tree suggests that he was cremated in Tunbridge Wells on 15th January 1976.