Albert Hardeman  1875 – 1928
Albert Hardeman, known as Bert, was born in 1875 in the Dover district, to Henry and Emma (née Measday). Higgs' information spells the surname as Hardiman, however this is a mis-spelling. 
The first original record found for Bert was the 1881 Census, which showed the family living at 7 Ladywell Place in Dover. Henry was working as a bricklayer's labourer and Bert had at least five siblings. By 1891 they were living at 146 Clarendon Street, then described as in Hougham. Bert was 15 and already working as a painter's apprentice. Somewhere between then and 1901, Henry died and Bert's siblings moved out, so there was only his widowed mother and Bert in the household at 144 Clarence Street, Dover at the time of the 1901 Census. 
Emma was working as a general shopkeeper and Bert had become a fully-fledged painter. 
Bert married Mary Jane Drew in late 1910, somewhere in the Dover District. Mary was the daughter of George Drew, who was the licensed publican at the 'The Bell' in Shepherdswell. Bert and Mary were living there in 1911 with her parents and two of her brothers. At this stage, Mary and Bert's first daughter was shown on the Census as being just two months old.
On the 14th December 1914, four months after the outbreak of the War, Bert and Mary were still living with her parents when their second daughter was born. However, only twelve days later Mary died, leaving Bert with their two little girls. The Dover Express of 1st January 1915 had the following excerpt:
"Hardeman. – On Dec 26th, 1914, at the "Bell" Inn, Shepherdswell, Mary Jane, the dearly loved wife of Albert Hardeman, and fourth daughter of Mr. and Mrs. G. Drew, aged 31 years.
Only good-night, beloved; not farewell;
A little while – and you and I shall dwell
In perfect union, indivisible –
Good-night! Good-night! Good-night!"
The only available War records for Bert appear to be his medical records, which described him as a Corporal in the 274 Labour Corps, when he was admitted to the 2nd General Hospital on the 18th September 1917, suffering from a urethral stricture. 
His age was given as 42 and the record stated that Bert had been in the Army for two years, of which 18 months had been in the Field Force. His service no. was 304230.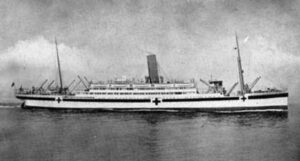 Following eight days in this hospital Bert was transferred to the hospital ship, the HS Essequibo. It is probable that he returned to service following this episode, as the 'In Memoriam' entry for his wife in the Dover Express on the 28th December 1917, he was described as a Corporal in the ASC. Using his service no. from the medical records to search further found his Medals transcription, which showed that he had originally held the service no. 18070 and had been a private in the Labour Corps. His enlistment papers have not survived.
Bert died on the 25th October 1928 at 200 Union Road, Dover, which was probably the formal address of the Poor Law Workhouse. It is not known if he was there because of poverty, or because he was unwell and was in the hospital wing. 
He was buried on 31st October 1928 at St Andrew's in Shepherdswell. The Dover Express of 2nd November 1928 gave his age as 52 and said that he had been a foreman painter for Dover Harbour Board for many years.