Albert James Friend  1892 – 1985
Albert, known as 'Tar' for most of his life, was born on 7th July 1892 in Lydden, the fifth son and seventh child of a family of eight children. His parents were George and Ellen (née Simmons). 
The 1901 Census showed the family living at 151 Canterbury Road, Lydden, with his father employed as an agricultural labourer. By 1911 they had moved to Hillside Cottages in Lydden and Albert was working as a farm labourer like his father. In 1914, his parents were living at Courtwood Villa in Shepherdswell and he may have been living there with them at that time. He was Best Man for his brother George Alfred that year. 
No confirmed War records have been found to date for Albert, although it is possible that he was Private Albert James Friend, service number M2/166779, of the Royal Army Service Corps. The 'M' refers to 'motor'. Unfortunately, apart from the name, there are no other details to confirm that this is our man.
Around the start of the War, his parents moved to Freeman's Villas until at least 1921. It is likely that Albert lived with them as in 1923, local directories describe him as a coal merchant and haulage contractor and give both his address as well as his parents as Camden Lodge, Westcourt Lane (the house of this name that is presently on this site was built on part of the original property).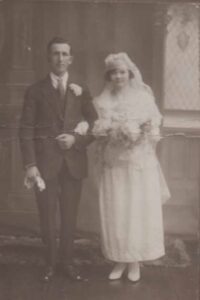 His parents moved around the corner to 2 Whittington Terrace about 1926, with Albert continuing to live and run his business at Camden Lodge. On 2nd January 1924, he married Hilda May Parker,  known as May, at St James in Dover. They had at least four children between 1925-1947, who remained living locally for most of their lives. 
The 1939 Register showed that he was also a special constable. 'Tar' had an interesting life, to judge from reports in the Dover Express and was summonsed at least five times, resulting in fines for not sending his son Raymond to school in 1941, and driving a lorry without a licence, amongst other things. He died on the 28th January 1985 and is buried, together with May, in the village churchyard.
His daughter gave us the origin of his nickname; apparently his father had a container of tar and was using it on his shed. Albert, then quite young, decided to help and unfortunately got rather a lot of tar on himself, much to the chagrin of his mother. The name stuck, as had the tar!