The three Turner siblings moved to Shepherdswell from Dover in 1914 with their mother Maria (née Jobson) and younger brother, Francis. The family made an immediate impression within the village community and played roles in the war effort, on both the home front and within the military. 
Maria Turner came to Shepherdswell with four of her five children after separating from her abusive husband, Thomas – a brave step that challenged social attitudes of the time. In November 1914, a court granted her a separation order on the basis of her husband's 'persistent cruelty' and gave her custody of Francis (still a minor). Her husband worked for Dover Harbour Board and, during the war, became local secretary of the United Builders' Labourers' Union. But his solidarity did not extend to his wife and children: he consistently refused to pay maintenance, telling Dover magistrates that he would 'sooner suffer death'. Maria and her children set up home at 1 Connaught Terrace, taking in four lodgers to help pay the bills. Throughout the war, she helped to organise fund-raising events, including fetes for the Red Cross, and acted as treasurer of the Shepherdswell Servicemen's Christmas Parcels Fund. In May 1919, she organised a 'fancy dress dance' as part of the village's 'peace celebrations'. 
Mary (Hilda) Turner  1892 – ???? VAD Nurse
Hilda, her eldest daughter, was the first in the family to volunteer for service. When the conflict began, she was employed at Buckland paper mill, after previously working as a cook in a private residence. Having already gained a reputation for voluntary work in the Dover area, Hilda joined a Voluntary Aid Detachment (VAD) linked to the Red Cross. She was posted to Malta at a time when casualties of the fighting at Gallipoli were turning the archipelago into a giant network of hospitals and convalescent camps. There, she formed a romantic attachment with Petty Officer Thomas Whitelaw Pettigrew, who was serving with the Royal Navy, supporting the military operations in the Dardenelles. On 9 January 1916, Banns were read in Saint Andrew's Church, Shepherdswell, announcing Hilda's marriage to Pettigrew, whose 'parish' was recorded as 'HMS Rattlesnake, On the High Seas'. For reasons unknown, the marriage did not take place. (NEEDS FURTHUR RESEARCH)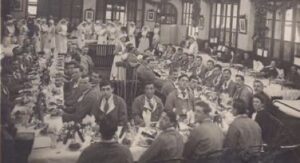 During the second half of the war, Hilda worked as a nurse in Kent. It seems likely that she was posted to the military hospital in Shorncliffe and, then, to one of the make-shift 'auxiliary' hospitals in the Sevenoaks area, possibly Cornwall Hall. It was at Sundridge Parish Church near Sevenoaks on 30 June 1917 that Hilda married Sergeant George Morgan of the Canadian Engineers. The Dover Express (6 July 1917) reported how 'as the bride left the hospital […], the convalescent patients strewed roses in her path and showered her with rose petals'. Two nurses, wearing their uniforms, acted as bridesmaids. 
Immediately after the war, the couple lived for a short period in Tenterden, Kent. The 1939 Register records them as living in Luton with two children, giving George's occupation as 'upholsterer' and Hilda's as 'trained nurse retired'.  
Thomas Turner  1895 – 1976  Sapper in the Royal Engineers 
In 1914, Hilda's oldest brother, Thomas, was working at Snowdown Colliery. In January1916, he attested under the Derby Scheme
and was assigned to the Reserves, continuing at the colliery while waiting to be called up. He was mobilised in July 1917 and disembarked in France on 10 October 1917 as a Sapper in the 182nd Tunnelling Company of the Royal Engineers. Thomas's role was a 'tunneller's mate'. By this point in the war, the army had 25,000 trained tunnellers engaged in 'underground warfare', most of whom had previously worked as miners. Tunnellers faced many dangers, the biggest of which was carbon monoxide poisoning. Thomas's discharge papers indicate that he suffered gas poisoning which caused 'shortness of breath' and led to a 'husky voice' – though the Medical Officer found no long-term damage. 
Six months after his discharge in February 1919, Thomas married Ellen Smith, a woman from Saint Leonards, Sussex. In 1939, he was living in Hastings with his small family, working as a refuse collector for the local council. Thomas died in Hastings in 1976. 
Richard Turner  1899 – 1974  Pioneer in the Royal Engineers 
Richard was 15 when the war broke out. The following June, just after his sixteenth birthday, he began working at Snowdown Colliery as a 'pony driver' –- a role that entailed guiding a pony pulling carts of coal to the pit shaft, after which they would be taken to the surface. After his eighteenth birthday in March 1917, Richard was conscripted as a Pioneer in the Royal Engineers. (Unlike Sappers, who were men with a recognised trade, Pioneers were unskilled men, often assigned to labouring duties.) 
It is unlikely that Richard active service. Conscripted men were generally not sent to the front until they were nineteen and, moreover, by 1918 tunnelling warfare had lost much of its importance as a tactic within the conflict.
In August 1918, Richard was still living at 1 Connaught Villas, helping his mother organise a Red Cross fete. Towards the end of the same year, he had an accident while timbering underground at the Snowdown colliery. He received some compensation during a sixteen- week recovery period before returning to 'light duties', which included the supervision of the pony drivers. 
Immediately after the war, Richard became the main provider for his mother, claiming to have refused 'a good offer in the Canadian Mounted Rifles because he felt bound to maintain his mother'. Soon, however, he suffered further accidents at work and, in 1923, took the colliery management to Dover County Court, claiming compensation. Despite a doctor's testimony that because of accidents 'he showed signs of exhaustion on the least exaction […] and was not the man he had been', the Court dismissed Richard's claims. 
In 1930, Richard married Ivy G. Oliver, a woman from Luton – the town in which Hilda and her husband were living. The couple set up home in Luton, with Richard working as a labourer at the Gas Works. He died in 1974. 
Sources: Dover Express, 2 February 1917, 9 March 1917, 6 July 1917, 24 December 1920, 1 June 1923. Sevenoaks 1WW website: https://sevenoaksww1.org/tag/cornwall-hall/