William Bean 1887 –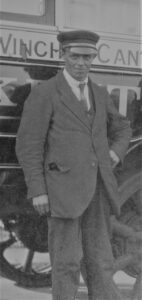 William was born in Shepherdswell on 12th April 1887, to parents George and Jane (née Horne).
William was known as Willie when he was young, as shown in the 1891 and 1901 Censuses when the family was living in Moon Hill.
By 1901, Willie was employed as a farm worker but by 1911 had become a gardener, although he was still living with his family.
William enlisted on 14th May 1915 at Grove Park. He was 5ft 4½ins tall and became a motor driver in the Royal Army Service Corps, with the service number M2/098148. He spent time in India, East Africa and France but manged to marry during this time to Margaret Coupland at Christ Church, Hougham, on 7th December 1916.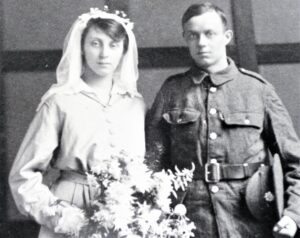 Just before his marriage, he was admitted to the Red Cross Hospital at Netley on 6th November 1916, with 'subacute rheumatism', being discharged on 1st December.
His address on his final discharge on 3rd April 1919 was back to his family home in Shepherdswell.
William and Margaret had three children between 1920-1924, and lived in Canterbury where William was employed as a bus driver. In 1934, when they attended William's father's funeral, he was known as Billy and Margaret as Maggie. The 1939 Register gave their address as 74 St Dunstan's Street but in 1949, when they departed on the ship the Empress of Canada from Liverpool to Halifax in Canada on 17th December, they were living at 17 Stour View, Broad Oak Road, Canterbury.
Their stated intention was to return to England as their permanent residence, however no death has been found for William to date, to show if they remained in Canada or returned.