Alexander Edward Croockewit 1885 – 1917
Alexander, the fourth child and second son of parents Jan Hendrik (also known as John Henry) and Fanny Mary Henrietta Ulsona (née Rapp), was born on 6th or 8th December 1885 in the Dover district. Tracing the family has shown a blank for the 1891 Census, however in January 1894, Alexander was admitted to the Bedford Grammar School, a single-sex school. His brother John Henry started at the same time. The 1901 Census showed Alexander living with his three sisters and parents in Bedford.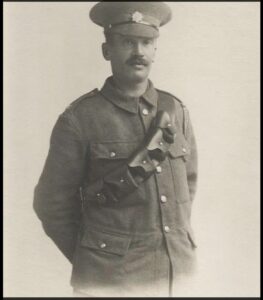 He left the Grammar at the end of the second term in 1903, and the De Ruvigny's Roll of Honour states that he went to Canada in 1905, where he worked in rail transport, although no other details have been found to corroborate this at present. The same record gives the information that he returned to England in 1910, and the 1911 Census gave his address as living in with his parents in Shepherdswell.
The De Ruvigny's Roll of Honour also says that Alexander had to have a 'serious' operation in order to qualify for active service, however his War records, which may have been able to give more information, appear to have been lost. The medals and awards documents gave the information that he originally became a driver in the Army Service Corps, and De Ruvigny stated that this was in February 1915, serving in France and Flanders from August that year until January 1917. He then returned to England and underwent cadet officer training at Fleet. 
He was gazetted as a 2nd Lieutenant to the 1st Battalion, The Bedfordshire Regiment, with the service no. T4/058235, although he was attached to the 3rd Battalion (Special Reserve). He returned to France in July 1917 and was injured in Ypres on the 25th October, dying of his wounds the following day at the age of 31. 
The letter of condolence from his commanding officer said that he had been 'greatly liked' by his officers, NCOs and men, that they would miss his 'cheery face', and that he had 'died a soldier's death in a manner reflecting the highest credit both on himself and the regiment'. 
He was buried at the Lijssenthoek Military Cemetery, Poperinge, West Vlaanderen in Belgium. His grave is marked with the inscription 'His life for his country; his soul to God'.