Singledge Farm, Singledge Lane, Coldred
Many people today think of Singledge Farm as being either in Whitfield or Temple Ewell however until sometime between the 1891 and 1901 Censuses, it was considered to be in Coldred. It has therefore been included in our research.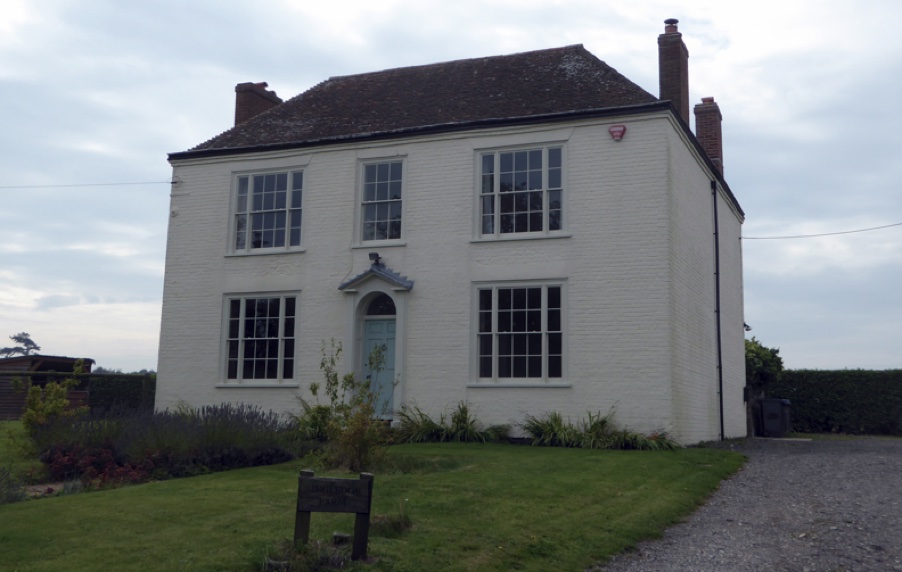 2017 (photo CH)
There appear to be very few records relating to the farm, although it's barn is Grade II listed by Historic England and was built sometime in the 17th century.
Henry Matson owned Singledge Farm, having inherited it from his brother Nathaniel, in the early 1700s. The Matson's were prominent residents of Dover. Henry bequeathed the farm to the Commissioners of Dover Harbour in his will of 1720. It was still owned by them in 1834 when it showed an income of £128, 13 shillings and 3 pence.
In the 1841 Census, four households were noted at 'Little Singledge', with seven in 1851, all headed by farm workers. No addresses were recorded in 1861.
In 1853, it appeared that employee of Kelsey Richards of Singledge Farm (Kelsey lived and farmed at neighbouring Newsole Farm), named Beer, fell from the top of some corn in the barn and the doctor, Mr Chalk, had to come from Eythorne to treat him. Mr Beer was said to have a broken collar bone and 3 fractured ribs but died within hours. The cause of death has not been found out to date.
In 1863, the South Eastern Gazette of 16th June gave the size of the farm as 201 acres, 2 rods and 6 perches.
By 1871, there were six households of farm workers and their families. They were probably housed in the farm's cottages.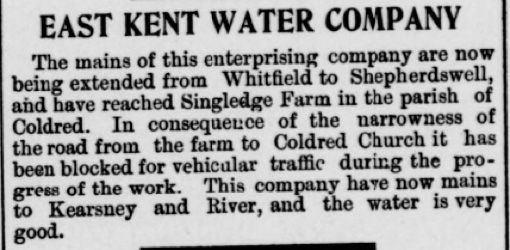 Dover Express 22nd September 1899
This continued until 1901 when George Richards, son of Kelsey and brother of Frederick who both farmed at Newsole Farm, was named as the farmer and was living at the farm. George died in 1904 and was buried at St Andrew's in Shepherdswell, with Frederick then resident at the farm in 1911, together with his wife, seven children and a general domestic servant. It was somewhere around this time that the farm was transferred to Temple Ewell parish as shown in census records.
Frank Broadley and his mother took on the farm somewhere between 1911 and 1921. The farm's cottages had farm working residents who were variously employed at Newsole and Singledge Farm and included 3 horsemen and a milkman.
In 1933, the farm appeared to be owned by the Earl of Guildford when the lease was advertised. As the farm had both arable and pasture noted, mixed farming was practised at that time.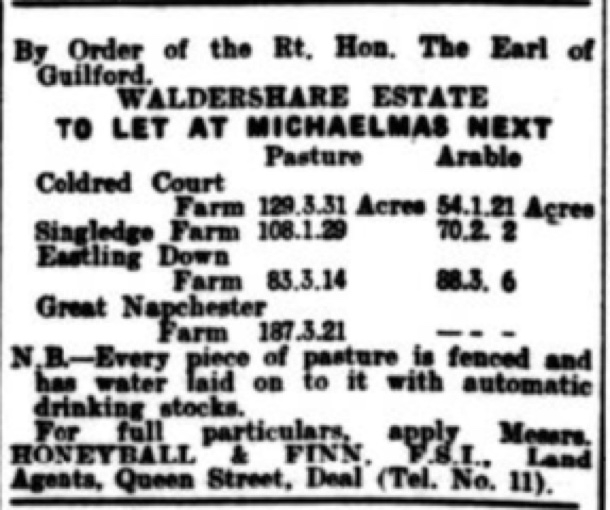 Kentish Express 23rd June 1933
The 1939 Register showed William AC Emptage, who described himself as a horseman and milker, living at the farm with his family. He was also an Air Raid Warden. In December of that year, an application was made to the Dover Rural District Council, showing that there were cattle used for milking at the farm.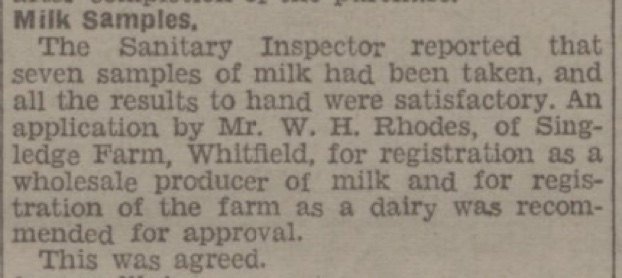 Dover Express 22nd December 1939