DIAMOND FARM – The Farmhouse
Diamond farmhouse is a Grade II listed building.
The north end of the building could possibly date from the medieval period, 11th/12th centuries. The front wall is built of flint and wattle and daub. There is also evidence of a window on the back wall of the bedroom with vertical bars and a grooved bar where a shutter would have been installed, distinctive of this period. The building would have consisted of a ground floor with an upper platform reached by ladder.
It was extended in the Tudor period. At some time a kitchen and bathroom were built at the back of the building. In the 1968 further extension took place, enlarging the ground floor room and joining the house to the stable. A fourth bedroom being added above this in the late 70s. At the same period a much larger cesspit was dugout in the farmyard to cater for the greater volume of water households were beginning to use, also an oil-fired central heating was installed.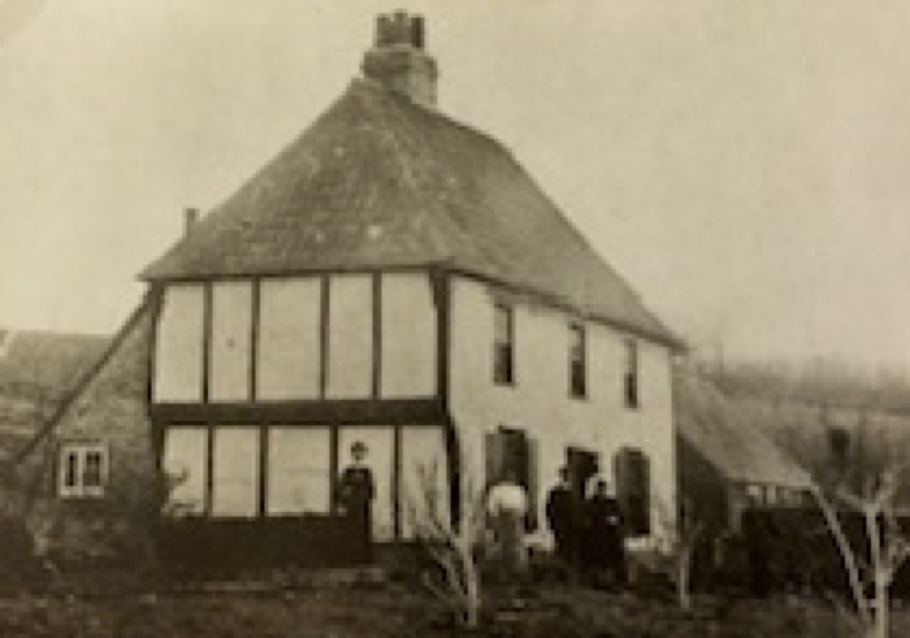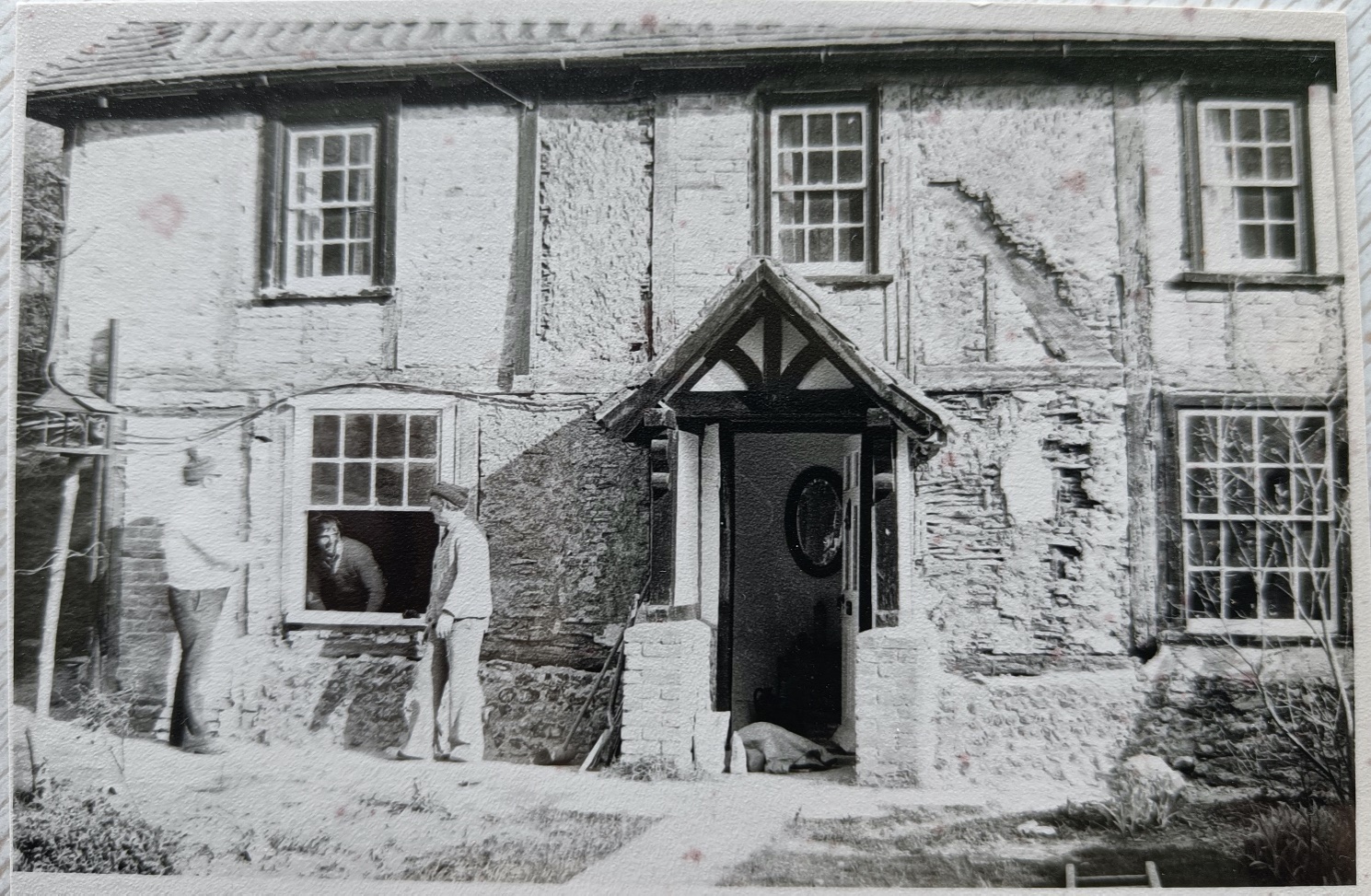 The Land
No documentation of the title 'Diamond Farm' has been found until the beginning of the 20th century, but it has constantly been described as property consisting of 9 acres, 1 rood and 13 perches of arable and pasture land in Shepherdswell.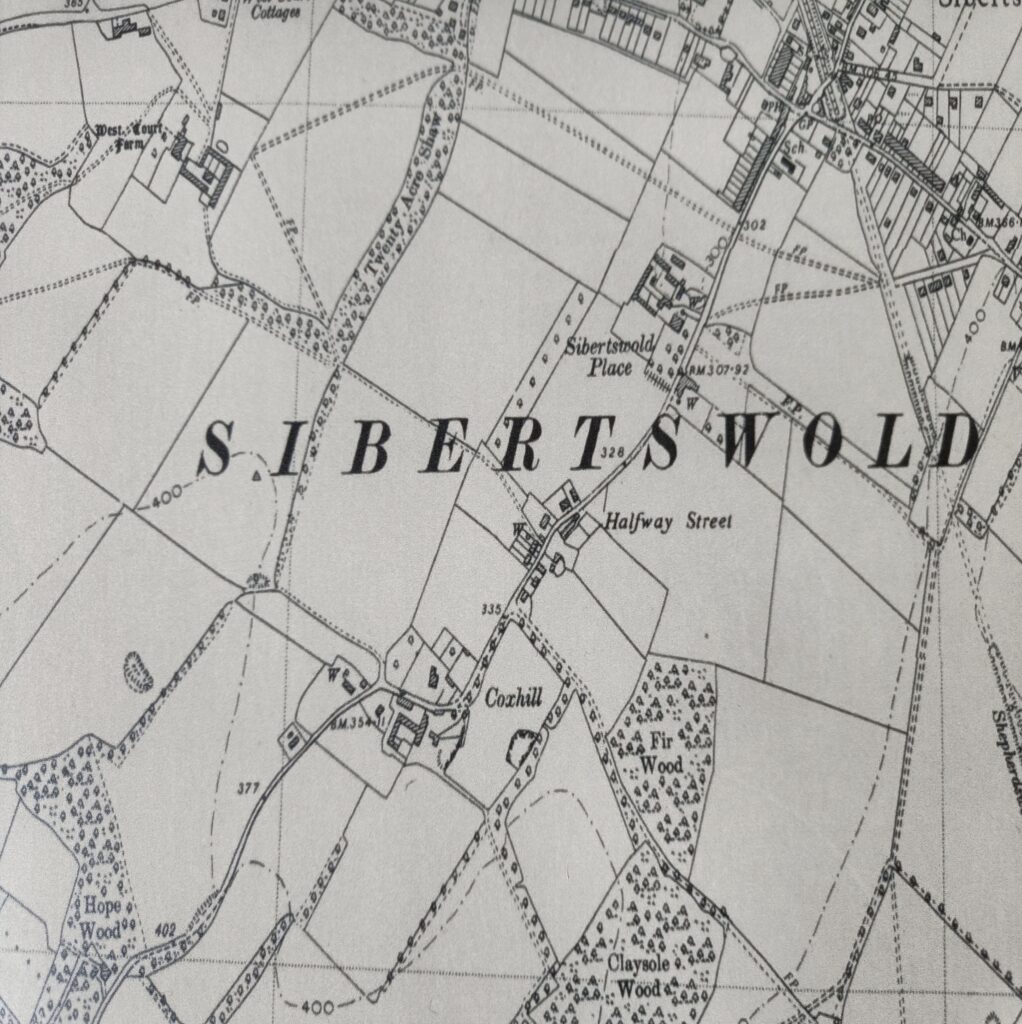 Most farms of this size in the 19th and early 20th centuries would have been a Mixed Farm, with at least a cow, some sheep, pigs and chickens; there would be arable land to grow crops to feed the animals and vegetables to feed the family. There would also be a horse or two to pull the carts, ploughs and harrows.
Not many of the owners in the 19th century lived on the farm. The property would be rented out to tenants. Some of these tenants would possibly work the land themselves and rent the house to an under tenant.
When Ansley Wooldridge was the owner, the arable land was rented out to Coxhill Farm for an annual fee of £10 per annum. In the 1970/80s cereals were grown and sometimes sweetcorn. In the 21st century it has developed into an Equestrian Centre.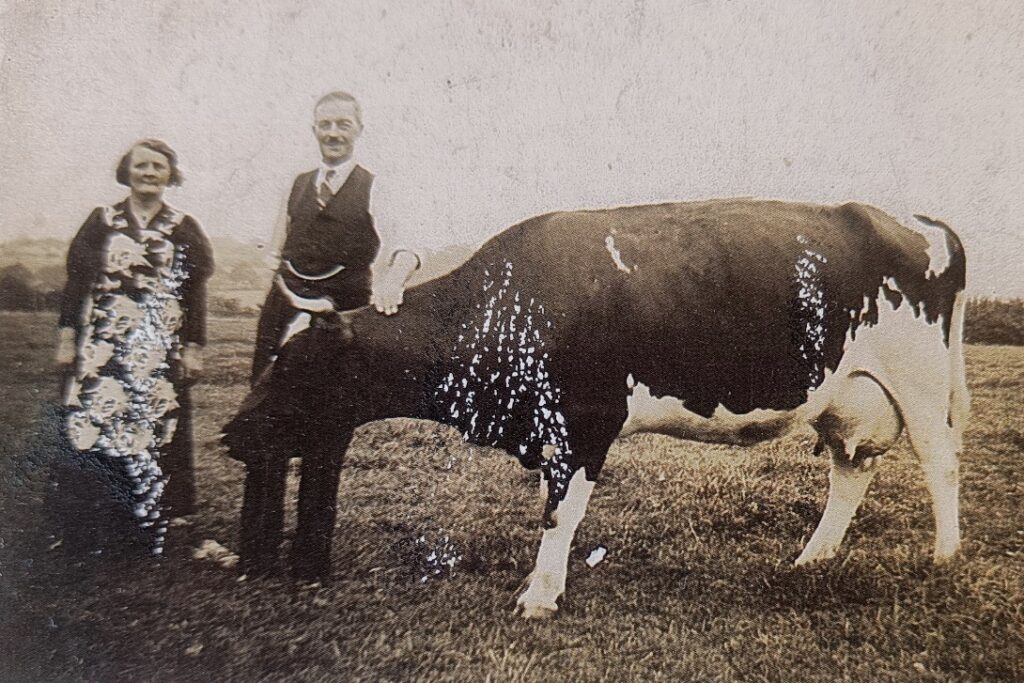 Owners of Diamond Farm
1867

James Brittenden was born in Dover in 1818. In the 1851 census he is recorded as a widower, living in Snargate Street, Dover, and his occupation was a Cordwainer (shoemaker).
He is on the Electoral Rolls from 1857 – 1867 in Sibertswold with a Freehold house and a three-stall stable with loft over and pieces of land at Halfway Street and William Fox being a tenant.
In 1867 his estate was auctioned and it included a dwelling house, barn, cart lodge, with good arable and pasture land. It is not known who he sold it to.
William Scarlett Pettman was born in St. Peters, Thanet in 1828. His father was James Pettman. In 1855 he married Caroline Solley in Ash, Kent. They lived at Sacketts Hill Farm, Isle of Thanet. He died in 1900 aged 72 in Picton Road, Ramsgate. October 1884 he sold the farm with the barn, stable, buildings and garden, orchard and two pieces or parcels of arable and pasture landto Mr. Thomas Pierce of Guilton, Ash (watchmaker) for £700.
Thomas Pierce bought Diamond Farm from William Scarlett Pettman.
He was born in 1822 in Ash, and his occupation was a watchmaker. In 1901 he lived in Upper Street, Eythorne.
William Cornforth of 4 Queen Victoria Street in County of London was a stock broker and Elizabeth Beale of Margate, a widow. They sold the land to John Jacob of Shepherdswell.
John Jacob bought the farm from William Cornforth and Elizabeth Beale.
He was born in Lyminge, the son of Thomas Jacob, a farmer. He lived in 9 The Terrace with his wife Sarah Ellen and children. His occupation was a Rates and Tax Collector.
1906
Henry Wooldridge bought the farm from John Jacob in 1906. He was born in 1840 in Bexley, Kent. He was a retired corn and coal merchant. His business was in Essex and later moved to Tonbridge, Kent. Henry lived in the house with his daughter, Matilda, for a few years before moving into The Bungalow and renting out the farm. After Matilda's death he moved to Linden House to live with his son and daughter-in-law. He died in 1927.
1928
Ansley Wooldridge inherited the farm from her father-in-law, Henry.
Ansley's husband Alexander was Henry Wooldridge's youngest son. They moved to Shepherdswell from Sussex in 1911 with four of their children. They settled in Linden House where Alex had a wheelwright and carpenter's business. Henry gave the farm to Ansley in his will.
The family settled into the farm. It was a small place and they had a cow, pigs and chickens. There were numerous number of fruit trees – apples and cherries. The garden was large and there they grew vegetables and soft fruit.
1969 Anlsey Wooldridge sold the house, yard, barn and the pastureland to Peter Henry Rivers Cripps and Eileen Mary Cripps his wife for £4,500.
1971 Leslie and Jean Wooldridge bought the farm from Mr & Mrs Cripps.
After Ansley Wooldridge's death, Leslie and Jean bought the arable land from her estate bringing the estate back to about 9 acres. Leslie had spent many happy hours on the farm when a child living with his grandparents and attending Sibertswold School. He was born in Chartham in 1930, the son of Christopher, Alex and Ansley's second son. Jean was born in 1931 in Llanelly, South Wales. They were both teachers.
They did not farm the land, but rented out the pasture to horse owners. Leslie though, as a hobby, had a collection of animals including geese, chickens, silkies. bantams, a golden pheasant, goats and rabbits. They decided to leave the farm when they realised that the work needed on the extensive garden would become too arduous and their son and daughter (James and Jane) were beginning to make a life of their own. They soon found a property they wanted and soon moved to Westcourt Lane.
1986 Leslie and Jean sold the property to Trevor and Fiona Devon in 1986
Tenants and under-tenants
For all of the 19th century for which records have been discovered, the owners of the land rented it out to tenants and at times they did not occupy the house and rented it to under-tenants.
William Fox is on the Electoral Rolls between 1857 and 1867, stating that William Fox was the tenant.
Thomas Sharp. In a newspaper 'For Sale' article in 1868, it shows that he was a tenant. Thomas was born in 1821. In the 1871 census it shows that he was living in Halfway Street with his wife Anne (bc 1831), his son Robert (bc.1860) and two daughters, Martha (bc.1862) and Anne (bc.1864). It states that his occupation was a carrier.
The 1881 census shows that he was a Farm Bailiff living in the house to Singledge Farm, Ewell.
George Thomas Fox 1884
John Ash was bornin 1849. His father was James (bc.1815) and mother Elizabeth (bc.1818); his siblings were Caroline, Thomas. William and Stephen.
In 1861 he was living with his family in Ripple, his occupation, a farmer boy.
In 1871 he as living in Geddinge Farmhouse, Wootton and his occupation was servant. On 2nd December 1871 he married Mary Ann Hammond in Sibertswold. Her father William Hammond was a farmer.
In the 1881 census, he was a farmer of 9 acres living in Green Lane, Sibertswold, with his wife and children – Arthur J. (bc.1871) William G. (bc.1874) Elizabeth M. (bc.1876) and Amelia J. (bc.1878}.
Edward Fright was born in 1833 in Minster. His name is entered on the 1894 Electoral Roll for Shepherdswell. In the 1911 census he is living at 2 The Terrace as a servant and caretaker, the Head of the house being Clara Prater. There is also an entry stating that he was a retired policeman. He died in 1914 and was buried in Shepherdswell.
Henry Stone was born in Shepherdswell in 1876. In the 1901 census it is recoded that was living in Diamond Farm with his wife Matilda and three daughters. His occupation was a carrier. After he left the farm, he moved to Moon Hill where he was a publican at The Leather Bottle.
1921 Edward William Henry Hayman was born in Swingfield in 1875. He lived in the house with his wife, son-in-lawPercy John Henry Diggins who was a sign writer, three daughters, a grandson and a niece.