Coldred Court Farm, Church Road, Coldred
The origins of this farm date back to before the Domesday records in 1086, when it was known as a manor. William the Conqueror gave it to Odo, Bishop of Bayeaux, with Ralph de Curbespine renting it from Odo. When Odo fell out of favour, it went to the Saye family until the reign of Henry III, when Jeffery de Saye granted the manor to the Hospital at the newly founded Maison Dieu in Dover.
It remained in their ownership until the Dissolution, when Thomas Culpepper was granted it for knight's service. It was only in his hands for a short time before Sir John Gage, comptroller of Henry VIII's household, took it over. Shortly after that, most of it was given to the Church Commissioners, with the remainder going to Richard Monins of Saltwood and his grandson, Sir Edward Monins.
After Sir Edward's death in 1663, his heirs sold it to Sir Edward Furness, whose granddaughter's second marriage took it into the Earl of Guilford's estates. What is now called Coldred Court Manor, with its outbuildings, was the original farm, but is now in private hands.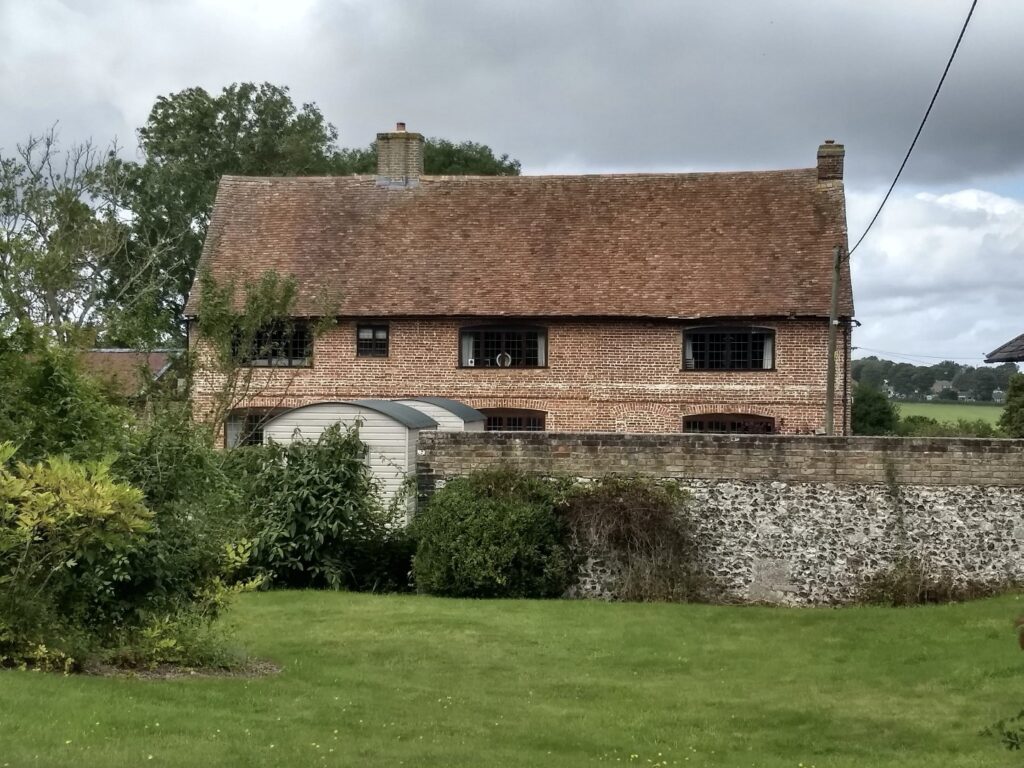 Coldred Court Farm (photo courtesy CH)
The original manor house was rebuilt by Odo in the 11th century, rebuilt in the 15h century. It was reclad with irregular bond brickwork in the 17th century, presenting the façade seen today.
Internal renovations have revealed a Norman arch in a wall, there are old beams and a large inglenook fireplace in the central living room. In the grounds are a Tithe Barn and an old Kent staddle barn, used to store grain out of reach of rodents.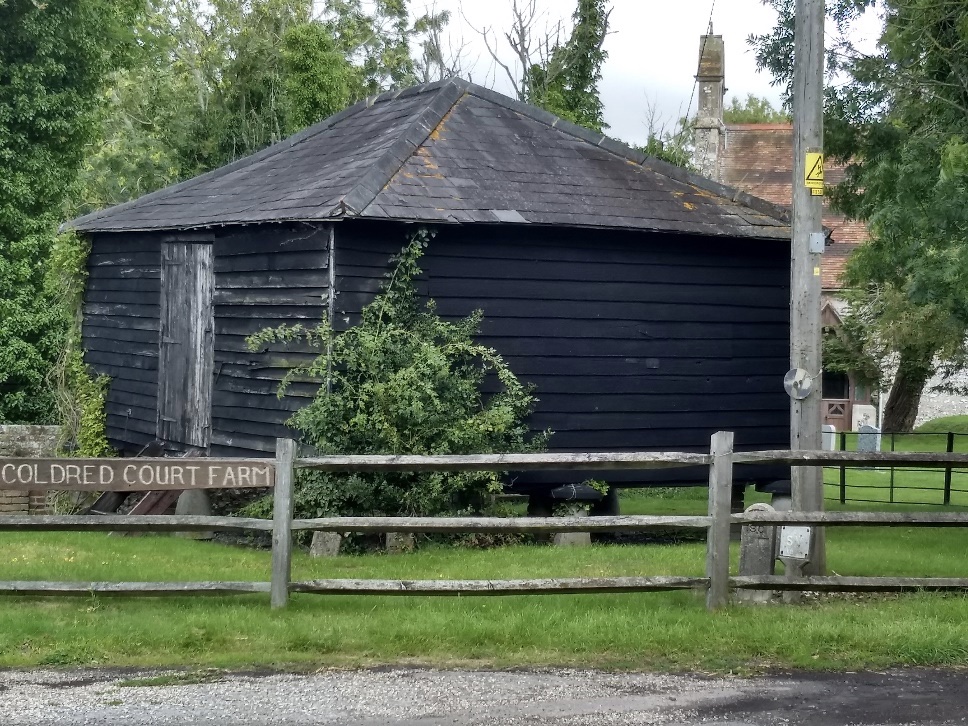 Staddle Barn (photo courtesy CH)
Known tenants of the farm at Coldred Court were found in newspaper articles and census information, although little is known about their personal histories. Throughout time, sheep, dairy cattle, pigs, chicken and crops are known to have been farmed here.
The first person found was a Mrs G Bushell, who gave up the tenancy in 1837. It was unusual for a woman to be in possession of a lease so it's not clear whether the newspaper had made a mistake and should have stated 'Mr' or whether one of her male relatives had been the original leaseholder.
Sometime before 1851, William Smith and family took up the tenure. The farm was 230 acres in 1851 and William employed eight men. Five of his employees lived at the farmhouse with him in 1851 and seven in 1871. He gave up his lease in 1874. 
By 1881, Frederick King and his wife were living at the farm, with Frederick employing four labourers and three boys, again with farm employees living with them. He may not have been a tenant farmer for very long as a Mr F King gave up his own lease in 1888.
After this, it appears that the farmhouse had farm employees living in it, suggesting that the farmer lived elsewhere. In 1891, Edward Ward, a shepherd, and his family, together with three young farm servants were inhabiting the building.
By the time of the 1901 census, John Goldsack, farmer, his wife and family had moved in. There were always at least five farm employees living with them including waggoners and a yardman. It is believed that this family remained on the farm until the end of WW1.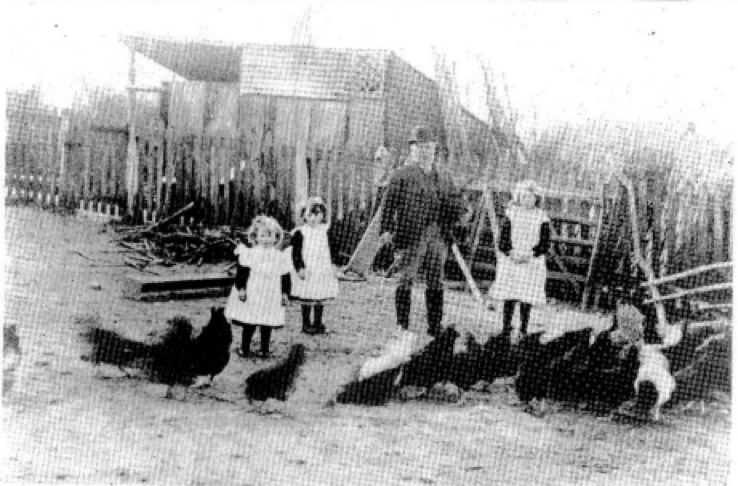 Photo of John Goldsack and children at Coldred Court Farm circa 1900 (courtesy of The Coldred Chronicle by Marjorie Chapman)
Albert George Fagg was the tenant farmer by 1921, but by 1924, Henry William Sutton had taken over the lease, leaving in 1925. RVA Balsdon was the next lessee, having a telephone, Shepherdswell 26, installed in 1925. He was still there in 1927.
The lease for the farm was advertised for auction on behalf of the Earl of Guilford in 1933, when the land consisted of '129 acres, 3 rods, 31 perches of pasture, with arable of 54 acres, 1 rod and 21 perches, a total of 183 acres, 4 rods and 52 perches'.
William F Collard, a working farm foreman, and his family tenanted the farm in 1939. He was a special constable during WW2. Hugh Ritchie took over after William and was working the farm from at least 1943 to at least 1960 with his son.
It's not yet known when the farmhouse was sold off by the Earl of Guilford, but today it is in private hands. The property was sold through Cluttons Estate Agents with a guide price of £435,000, however the date of marketing is not recorded. The drawing below shows the position of the current property.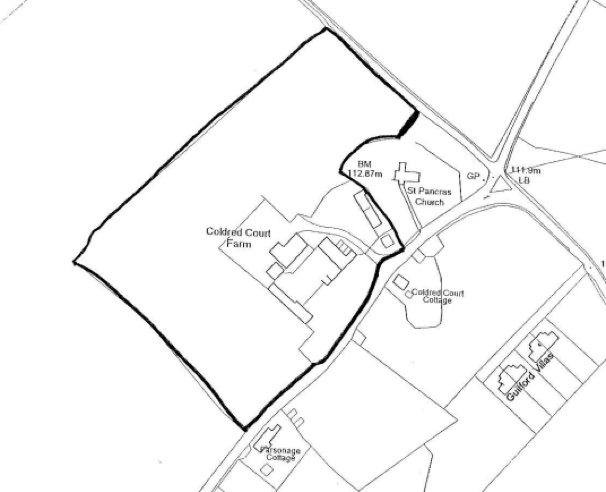 A newspaper article in 1993 showed the White Cliffs Countryside Project taught traditional hedge-laying to local people on a couple of days. Previous residents ran a guesthouse at the property and the tithe barn is still used for art exhibitions and various events that take place in the village.