As with most sites in this area the Church has played a major role in managing and developing the village of Shepherdswell. We know that in 944 (tbc).
St. Andrews Church occupies a site of continuing Christian worship since at least the Domesday Book, 1086. It was thought to have originally been a wooden Saxon Church that was replaced around the 12th century with the two-celled Romanesque church – shown below left.
The first picture (below left) is an unknown sketch and the second (below right) a very early photograph taken from the Forge.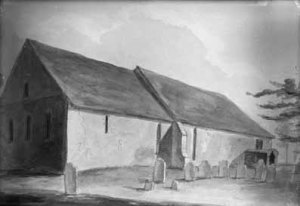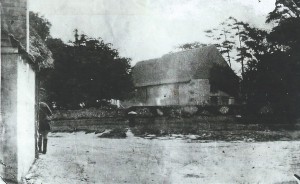 The old church was demolished in the late 1850's to make way for the current church. Local legend has it that the old church was demolished as it was falling down but research has recently found that this may have been simply an excuse. It was felt among the parishoners that the old church did not adequately meet their needs.
For the brief period the church was inactive when burials and weddings were held mostly in the St. John the Baptist Church in Barham.