More has been written about Winston Churchill than any other figure in 20th century British history. But up to now the story of Churchill's role in the history of the nuclear bomb has been largely untold.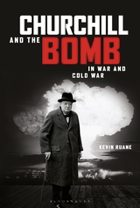 Kevin Ruane's recent book on the subject has had rave reviews. Based on research in the United States and in Churchill's archives, it traces how Churchill went from seeing the nuclear bomb as a weapon of war against Nazi Germany to viewing it as a weapon of communist containment, including the development of his strategy of 'mutually assured destruction (MAD)'.
Kevin Ruane is not only an expert on Winston Churchill but delivers one of the best impersonations of a Chuchillian speech. An informative and entertaining evening is promised.
Join us on Thursday 25th April at 7.30 in Shepherdswell Village Hall for an entertaining presentation about a lesser known aspect of Churchill's life and career!
Entry only £2.50 (£1 for members)
Refreshments and Raffle