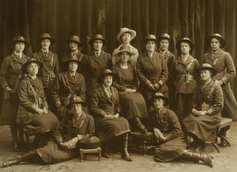 Women in Wartime
The role of women during World War One is often overlooked. Women served in the Women's Army Auxiliary Corps (WAAC), which was established in July 1916. The WAAC was the first occasion that women were formally enrolled in the British Armed Forces. They also joined Voluntary Aid Detachments (VAD) which provided medical aid to troops both at home and close to the front. 
Women also played a vital role on the Home Front, working in munitions factories and in agriculture. 
Women were at the heart of community activity, organising community activities, collecting packages to send to troops and prisoners of war, keeping families together and supporting fellow villagers in time of need. 
Here we highlight some local women but there were many other unknown heroines.
Women Who Volunteered
Mabel Ward (1897-1979)
Born in Shepherdswell in March 1897, Mabel lived in Hazling Dane Cottage, with her father, Frederick (a gardener), her mother, Eliza, and two brothers and sisters.
Mabel enrolled in the WAAC. Unfortunately, we have been unable to trace the official record of her service.
After the war, she married Albert Ruck, who had lived in 4 Whittington Terrace. The couple had two sons and for a time lived in Ringwould.
Mary (known as Hilda) Turner 
Born in 1892, Hilda was the daughter of Maria and Thomas Turner (a building worker). She had a sister and two brothers, who both joined the army.  During the war her mother was prominent in organising community activities (see below). In 1911, Hilda was working as a cook. 
In the summer of 1915, Hilda joined the VAD and worked as a nurse in Malta in two different military hospitals. Her posting to Malta began as casualties of the fighting at Gallipoli were arriving in great numbers. In July 1915, there were 4000 wounded soldiers in Maltese hospitals; within three months this had risen to 22,000. Malta became the site of one of the biggest networks of war hospitals and convalescent camps during the conflict.
After her service in Malta, Hilda worked as a staff nurse in hospitals in Kent.
On 30 June 1917 she married Sergeant George Morgan of the Canadian Engineers. The Dover Express (6 July 1917) reported how 'as the bride left the hospital […] the convalescent patients strewed roses in her path and showered her with rose petals'.
Hilda was awarded the Victoria Medal and British War Medal.
Margaret Bigg (1882-1967)
Born in 1882, Margaret was daughter of Reverend Thomas Bigg and Janet Bigg.
The family lived at Oldfield Mount and was well-known in the Shepherdswell community. During the war, their gardens became the venue for fetes to raise funds for the Red Cross.
Margaret Bigg served in a VAD unit, arriving in France on 15 September 1915. She was awarded the 1914/15 Star, a medal awarded to around 800 VADs, the British War Medal (1914-20) and the Allied Victory Medal (1914-19).
In 1925 Margaret married John Alfred Dearden Reade. Known as Peg, she lived in Monkswell, Giles Road, Canterbury. 
Annie Hogben (1893-1968)
Annie lived at Grove Cottage, Netherton, West Court Lane, Shepherdswell, with her father, mother and seven brothers. Her father, George, worked as a wagoner. In 1911 Annie was working as a domestic at the Royal Victoria Hospital in Folkestone. Six of her brothers fought in the war – all of them survived.
Annie Hogben served as a VAD with the British Red Cross from 1 May 1916 to 22 December 1918. She was awarded the British War Medal and the Victoria Medal.
In March 1919, Annie married Albert Saunders, who was – like Hilda Turner's husband (see above) – a Canadian. The couple lived in Canada and had two sons.
Helen Crookewit (1879-1966)
Helen was born in Dover, to a Dutch father and Scottish mother, and had a brother and two sisters. The family lived at The Mount, Shepherdswell. Before the war, Helen worked as a nurse in a Nursing Home in Ramsgate.
Her brother, Alexander, served as a second-lieutenant in the army and lost his live during the war. His name is inscribed on the tablet in the church and on the War Memorial on the Village Green.
Helen joined the Territorial Force Nursing Service and disembarked in France on 19 October 1915. She served as a staff nurse, before being promoting to Sister.
Helen was awarded the British War Medal and the Victoria Medal.
On the Home Front
Mrs. Belcher
Mrs Belcher was appointed Head teacher at Sibertswold School in 1915. Under her direction, the school organised several lively entertainments to raise money for various charities. For example, on 10 July 1916, the school organised a fair 'to raise money to feed the starving children in Belgium'. Those attending were met at the entrances by 'pedlar women with trays of ware' – which were 'pretty little Belgian Flags'. Mrs Belcher was dressed as Gipsy Ione, before changing costume to become the Dickens character Mrs Jarley. She took part in a sketch from The Old Curiosity Shop. The fair raised £12 7s 6d for the Belgium Relief Committee. (Dover Express 14 July 1916)
Mrs. Maria Turner.
Maria Turner was the mother of Hilda Turner (see above) and Richard Turner both of whom served in the war. She lived at 1 Connaught Villas (on Cox Hill).
Maria organised and ran many events to raise funds for various charities. In November 1918, she organised a Victory Fancy Dress Dance. The proceeds were for the Shepherdswell Servicemen's Christmas Parcels Fund of which Mrs. Turner was the Treasurer. 
Miss Ellen Ashdown
Ellen Ashdown was born in Shepherdswell in 1889. Her father Walter and her mother Elizabeth lived in Church Cottages, Church Hill. Her father was a gardener.
During the war, Ellen took part and helped to organise fund-raising events. When, in April 1918, a War Savings Committee was set up by the school, Ellen became the Treasurer.
She also became secretary of the Band of Hope, an organisation for children under 16. Originally established as part of the temperance movement, the Band of Hope organised a range of activity for young people in Shepherdswell during the war, including musical evenings and picnics.
After the war, Ellen married Hubert Masters (24 September 1919) and continued to live in Church Cottages. Ellen, known as Nellie, taught at the Sibertswold School for many years, known as Miss Ashdown and, then, Mrs. Masters 
Lady Rice
For centuries, the Rice family have been major landowners in East Kent.
Fanny Julia Dawkins joined the family when she married Admiral Sir Ernest Rice in 1903. Fanny's previous husband had been killed in action during the Boer War in 1899. Sir Ernest and Lady Rice lived in Sibertswold Place, which was situated opposite what today is the Tipsy Gardener. (All that remains is the wall.)
Throughout the war, Lady Rice played a prominent role in many different activities.
She was Secretary of The Mother's Union and district representative on the East Kent Women's Agricultural Committee.
Annie Smith: An Unrecognised Casualty of War
One of the unrecognised casualties of the First World War was 46-year-old Annie Smith, who lived in Shepherdswell with her husband, Daniel Smith, a grocer, and their young daughter. The couple's son, Harry Smith, was in the army. 
On 22 May 1916, neighbours heard a loud bang which 'sounded like a ginger beer bottle had burst'. Annie Smith was lying on the floor across her doorway. She had shot herself with a revolver.
The inquest was held in Saint Andrew's Hall. Daniel Smith said that his wife had been under a doctor in London for several years but also explained the effect of the war on her nerves.
'She complained a good deal of nervousness and suffered from pains in her head. Our son had been to Gallipoli, and then he went to France, and that worried her.'
The Coroner said that 'there was ample evidence to show that the deceased was in an unsound state of mind when she took her life, and he was sure that they all sympathised with the relatives'. (Dover Express, 26 May 1916)