2021 Programme of Events
The History Society's regular Village Hall meetings have been cancelled during the pandemic.
However, the Society will be starting regular presentations via its YouTube channel.
January
"An Unwanted Guest: The Polite Austrian", was broadcast at 7.30pm on January 28th and was be followed by a Q & A session via Zoom.
The programme is based around an event involving the RAF and the Luftwaffe that occurred in a field just outside the village in 1940.
For more information and to view the presentation click here.
February – Thursday 25 February at 8pm
"The Pub Landlord" – The life of Thomas Williams, landlord of the Bricklayers Arms, 1910–1926
THOMAS WILLIAMS was licensee of the Bricklayers' Arms and a popular member of the village community for over three decades. As well as his years in Shepherdswell, his life took him to – amongst other places – Cornwall, Lancashire, south-east Asia, and the battlefields of northern France.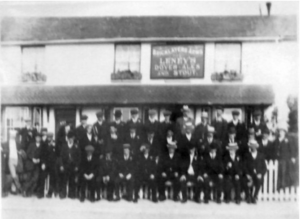 In the History Society's latest lockdown talk – John Bulaitis pieces together his biography, which is an important part of the history of the Shepherdswell community during the first decades of the twentieth century.
The Zoom link will be posted on this page before the date as well as our Facebook page and other community online noticeboards.
More presentations are being developed and details of these will be added to this page as they become available.
Watch this space!